Travel Management
Taking the train vs a plane: It's time to reconsider train travel
Business travelers are looking for the most convenient options when they travel, so when it comes to planes vs trains, which transport mode comes out on top? Discover the cost, time and emissions savings of taking the train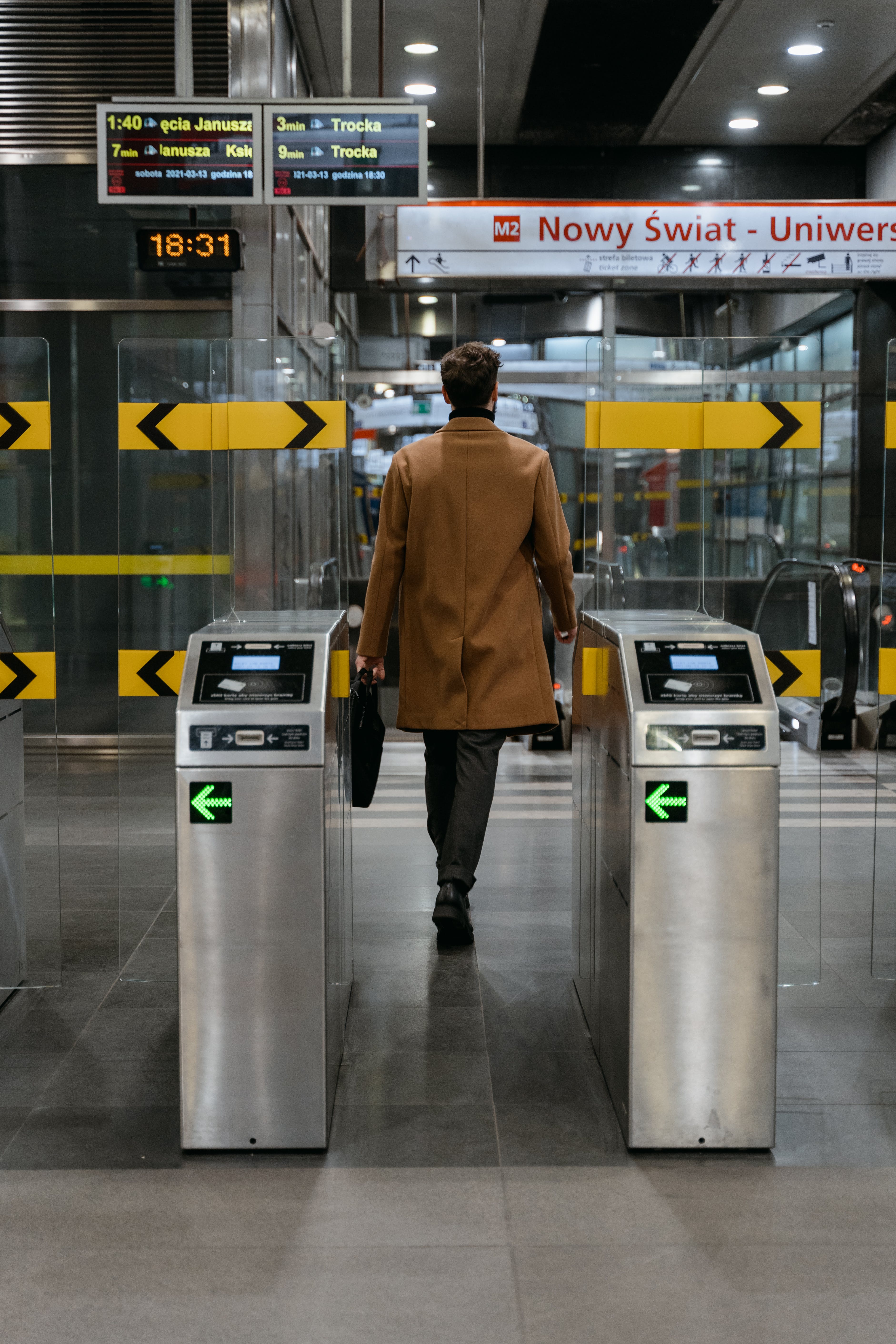 When it comes to business travel, there's only so much you can do to promote low-emission transport if it's neither convenient nor cost effective. When your employees are traveling for work, journeys need to be flexible, straightforward and hassle-free. This is not only to ensure their comfort, but also to make sure they're making the most out of their time out of the office. So, aside from climate considerations (which, spoiler alert, are considerable!), how do trains stack up against planes for business travel? We've looked at 2 a couple of European routes to help you evaluate some of the pros and cons of taking the train vs taking a plane.
3 key benefits of taking the train for business travel
1. You avoid the business travel "dead time" trap
A lot of business travellers favour flying over taking the train simply because they think that taking the train takes longer. In some cases that's absolutely true, for example Amsterdam to Berlin is a one hour twenty minute flight, but a six and a half hour train ride. But what people often overlook in these calculations is the in-between "dead" travel time - the 30+ minute ride to the airport, the need to arrive at least one hour before their flight, and then taking the train or a taxi to their final destination. It all adds up when you look into it.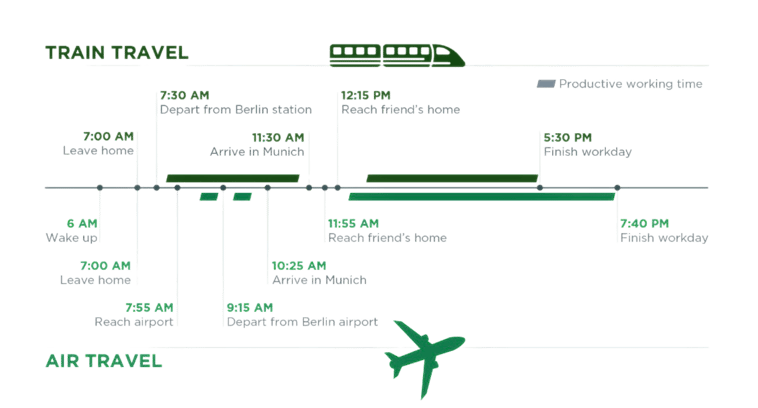 Source: The International Council on Clean Transportation (ICCT)

2. You can stay productive when you're traveling for work
In a 2022 study by Trainline Partner Solutions, more than eight in ten (82%) business travellers said that maintaining productivity while traveling was a major consideration, citing reliable WiFi access, a more comfortable work environment, a quieter and calmer experience and less waiting time as key reasons that they would choose the train vs a plane. Employees' wish to maintain productivity should be welcome news for employers looking to get the most out of travel days, but it also requires those options to be available.
3. You can drastically reduce your travel emissions
With businesses juggling the rising cost of travel, and new requirements to offset or reduce their travel emissions, travel managers are looking for ways to tackle their overall carbon footprint. This means first analysing whether the trip needs to happen in the first place - can it be a zoom call?, and then looking for small (or big) margins to reduce emissions across the different transport options available - for example switching to the train for shorter domestic distances, encouraging employees to take the metro instead of a taxi, or switching to an electric taxi where possible.

Here's a breakdown of how much you emit when you fly vs taking the train:




Train vs Plane comparison
Two routes, big differences. See how flying compares to taking the train for these two business travel destinations.
Amsterdam to Brussels
The fastest way to reach Brussels by train is by taking the Eurostar (formerly known as Thalys) which takes approximately 1 hour 50 minutes, with trains leaving every hour or so. All Standard seat reservations come with free WiFi but if you want a little extra legroom, upgrade to a "Comfort" seat, and if you'd like to splash out and get access to the Business Lounge, upgrade to "Premium".
Route: Amsterdam -> Brussels

Plane

Train

Economy class
From €220-€250
From €120 - €150
Business class
From €1,358
From €153
Advertised Journey Time
40 mins
1hr 55 mins
Real Journey Time
2hrs 40mins
2hrs 25mins
No. changes
0
0
Emissions total
77kg
16kg

Verdict

"Even if you overlook the huge emissions savings, the comfort, cost and convenience of traveling by train wins here - even if you upgrade to a "Comfort" or "Premium" seat."
London to Paris
The Eurostar link from London to Paris is a well-established business route, with over 14.8 million passengers making it through the turnstiles in 2022. An expensive travel option if you book last minute, it's a good idea to reserve your seat well in advance to secure the best deals. It's also worth noting that when you book the Eurostar, their trains can be found in the flights tab. This is because, as an exclusively international train service, Eurostar prefers to advertise its services alongside flights rather than rail services.
Route: London -> Paris

Plane

Train

Economy class
From €79
From €250
Business class
From €440
From €320
Advertised Journey Time
1 hr 20 mins
2 hrs 17 mins
Real Journey Time
3hrs 30mins
3 hrs
No. changes
0
0
Emissions total

170kg

35kg

Verdict

"From an emissions point of view, taking the train vs. a plane is a no-brainer whether it's a day trip or longer. It's convenient and quick, with lots of departure times to choose from. But make sure to book ahead to secure the best deals."
Details included are estimates and based on averages from Nov, 2023. Search was based on booking 1 week in advance and staying for 4 nights.
Average plane timings are based on: Journey time to airport: 30 mins / Arrival time before flight: 1 hour / Journey time to city centre: 30 mins / Emissions totals are based on DEFRA conversion factors from Goodwings' carbon calculator.
Average train timings are based on: Journey time to train station: 30 mins / Emissions totals are based on DEFRA conversion factors from Goodwings' carbon calculator.
7 reasons you should switch to the train for your next trip
Forget emissions savings - taking the train is just a much more convenient way of getting from A to B.
1. You get to skip security
Keep your shoes on, your laptop in your bag and head straight to your platform.
2. Fewer delays!
Reduce the risk of cancellations and delays. In 2022, nearly 2,000 European flights we cancelled every day.
3. Shorter transit times
Shave time off your full trip, with reduced waiting and transit times.
4. There's more room and flexibility to move around
Get up, stretch your legs and grab a coffee from the dining car, at any time.
5. Arrive in the city centre
Avoid having to take the metro or taxi into the city centre - you'll arrive at the heart of the action.
6. No need to check in or pay extra for luggage
No need to limit how much you pack, or pay extra to put your bag in the overhead cabin.
7. More opportunities to work, or just relax
Stay connected to your colleagues back at the office, or tick off a few extra tasks on the way.
Discover the only Travel Management System that puts the planet first