Net Zero
By Marcel Fukayama, Executive Director of Sistema B International



There is a historic global cultural shift ongoing and a unique opportunity to use market-driven solutions to solve social and environmental complex challenges and hence build an inclusive, equitable and regenerative economic system for all people and for the planet.

The pandemic has exposed severe system failures and it has given us the opportunity to rethink and design a recovery strategy in alignment with the 2030 Agenda. According to the WEF, there is an opportunity to create 395 million new jobs and USD 10 trillion in revenues in this decade for those businesses that embed social and environmental best practices.

Sistema B is part of a global network that articulates a movement of people using the power of markets as a force for good. Specifically, companies aligned with the challenges and opportunities of this century combine three elements in the B Corp DNA:

The purpose to generate positive impact
Responsibility of its administrators aligned with this purpose
Commitment with transparency by periodically measuring, managing and reporting its triple impact.
The B Corp certification allows companies to improve their practices and strengthen their governance towards a positive impact economy. There are currently 3,800+ certified B Corporations from 150+ industries in 70+ countries with the goal to redefine success in the economy. They are a powerful inspiration for other businesses and market players such as governments, investors and consumers.
This global community responds to inequality. The movement for anti-racism in Brazil articulated by Sistema B Brazil mobilized more than 42,000 people and 320+ companies to implement best practices with equity, diversity and inclusion in the work environment. In Chile, more than 1,500 businesses signed the commitment to significantly reduce the wage gap.

More importantly, this global community is addressing a planetary emergency. In late 2019, 533 B Corps took action during the COP25 Chile in Madrid and committed with net zero emissions by 2030 - 20 years before the Paris Agreement, creating the largest corporate action ever done to face the climate crisis.
As part of this effort, the Race To Zero is a global campaign to rally leadership and support from businesses, cities and investors for a healthy, resilient, zero carbon recovery, which enables an inclusive and sustainable economic reactivation.
There are currently over 1,600 businesses, approx 500 cities and 74 investors committed to this agenda. These actors collectively cover 25% of global emissions of CO2 and over 50% of the global GDP. The ultimate objective of the campaign is to create a momentum to promote structural change towards a decarbonized economy ahead of COP26 in Glasgow, where governments from all over the world will review and strengthen their commitments to the Paris Agreement.

Such mobilization creates a positive pressure for economic actors to make decisions and take actions that enable an institutional environment favorable to address the main existential threat humankind has ever faced.



Net Zero Travel - Bird Phoenix
By Christian Møller-Holst, CEO and founder of B Corp certified Goodwings


Ever since 1850, the global level of CO2e has increased incrementally and in 2019 alone, roughly 43 billion tons of CO2e from human activities were emitted into the atmosphere. This was an all-time high, breaking the previous record from 2018.

"Hot, crowded, and running out of fuel" is basically how the OECD describes the world by 2050. The world will require about 80 percent more energy and most of this will be generated by burning more fossil fuels - especially coal. Without major changes, global warming will continue and temperatures will rise as much as 6° C (about 10.8° F) by the end of the century, according to the OECD.
This calls for immediate change, and a reimagining of industries. The top polluting industries will need to modify their practices going forward - among others the travel and tourism industry, which accounts for a whopping 8% of the annual CO2e emissions globally.
In the travel and tourism industry, sustainability has been on everyone's lips for a while, and concepts like "sustainable travel", "conscious travel" and "climate friendly travel" are being used liberally to mark new sustainable initiatives. However, it seems that labels like "sustainable travel", with all the new initiatives it covers and describes, is becoming harder to pin down, causing confusion among travelers.
We need concepts that are easy to understand and address the problems at hand. One of those problems are the CO2e emissions from flights, accomodation, meals and more. That is why Net Zero Travel will become a vital concept for the travel industry; it addresses both a problem and a solution to that problem. To neutralise, or remove, the carbon emitted by our travel activities. This represents an opportunity for the sector to reappear with a higher level of consciousness.
Barriers for sustainable travel
In our experience, the travel industry is not lacking in people wanting to travel more sustainably - in fact, the number of travelers seeking sustainable options is exponentially rising. However, there are still multiple obstacles hindering travelers from traveling sustainably.
One of the primary reasons we have encountered in Goodwings is a lack of knowledge as to how. Other obstacles like extra expenditures on sustainable travel and unclear eco-labeling, as well as online booking platforms choosing to prioritize price over responsibility, are all making the move towards a more sustainable way of traveling harder for the individual.
Along with a lack of knowledge, it seems price is a large factor for individuals and businesses not to implement sustainable travel solutions. Going into a post-covid stage, one might raise the question as to what priorities businesses will have? Many businesses have suffered financially because of Covid-19, why one might anticipate a world whose primary focus will be to reach financial stability, down prioritizing social and environmental issues.
Sustainability does not have to cancel out profit, but it is necessary that we make it a priority. Dreaming of emission-free planes and new high-speed railways is all good and well, but we cannot wait for technological developments to solve our problems. To remove the barriers of sustainable travel, we need to get rid of old behavior, and insist on sustainability when we rebuild the industry.


A Tangible Solution
Goodwings is living proof that you don't need to compromise with price and sustainability, as an individual or as a company. We have introduced a business model that makes it possible for us to calculate and verifiably remove the total travel emissions of our clients, enabling them to travel Net Zero.
For us, integrating climate mitigation into the process of booking a hotel is proving to be a gamechanger, both for companies and leisure bookers. Offering information and verification on how we remove CO2e in the form of certificates and content, is now also a part of our service.


All of these initiatives are integral parts of our journey towards a more sustainable travel industry, and joining the race towards Net Zero. By 2030 our ambition is to have removed 50 million tons of CO2e from the atmosphere - we hope many business leaders will embark on this journey with us.



About the authors

Marcel is an impact entrepreneur committed to strengthening the B Corp community, redefining success in business and empowering the new positive impact economy. He is the Co-founder of Sistema B, Brazil, and currently the Executive Director of Sistema B international.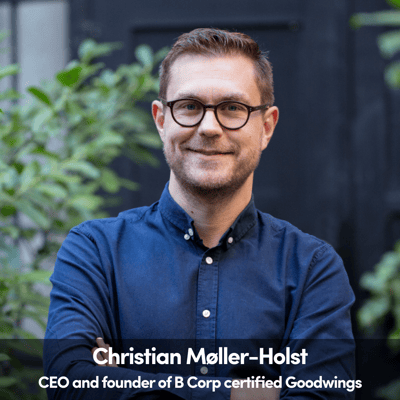 Christian is the CEO and founder of Goodwings. As a serial entrepreneur with a passion for impact, Christian has 20 years of experience with all aspects of sustainability and CSR. Besides holding the title of CEO, Christian has studied philosophy and business, and holds a Master's Degree from Copenhagen Business, is an ex-army officer, father of three, and a life-long Vespa fanatic.